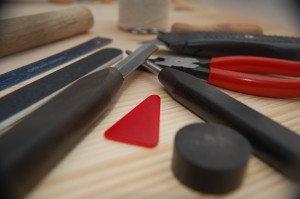 Over the past cou­ple of weeks, I've been cor­re­spond­ing with one of my incom­ing fresh­men about what reed tools and mate­ri­als he'll need when he arrives at school in the fall. This has inspired me to assem­ble a real list of the equip­ment that I want a begin­ning reed maker to have. I've combed the three dou­ble reed spe­cialty shops that I typ­i­cally do busi­ness with (For­rests Music, Mid­west Musi­cal Imports, and Miller Mar­ket­ing) along with a few national chains (Ace Hard­ware, Home Depot, and Wal­greens) for the best prices on my rec­om­mended items. There are a cou­ple of things that I rec­om­mend get­ting from Bar­rick Stees and Christlieb Prod­ucts, as well. For most items I've also listed other options, in case you'd like to buy a bet­ter knife, or save on ship­ping by order­ing from fewer mer­chants. I won't go through exactly how I use all of these now — that's a topic for another post.
---
---
Now, a few caveats about this list:
These are the items that I con­sider essen­tial for my own style of reed mak­ing. Other play­ers and teach­ers will likely have some­what dif­fer­ent lists.
In list­ing the best prices for these items, I have tried to find tools that are suf­fi­cient for a begin­ning reed maker. They cer­tainly aren't the only options, nor are they all the speci­fic mod­els that I use on a daily basis.
If you buy all of the "Best Price" items on this list, it comes to about $320, not includ­ing tax or ship­ping charges. This may seem like a lot, but con­sider that with com­mer­cial reeds at $15–20 a pop, mak­ing your own reeds will recover the cost of tools in rel­a­tively short order. If you really want to, you can wait on the reamer and torch, bring­ing the total down to about $220.
There are tools I use fre­quently that I haven't included on this list, because there are ways of accom­plish­ing the same tasks with those I have listed.
You will, of course, need some­thing to put all of these tools in. For­rests, Mid­west, and Miller all carry nice tool pouches, but you can also just use some­thing you've already got or even the ship­ping box your tools arrive in.
There is one addi­tional item with­out which all of this is use­less: cane! But that's a sub­ject for another day.
Although I've made this list pri­mar­ily for my own stu­dents, I hope that it will prove to be use­ful for oth­ers, as well. Happy reed mak­ing!