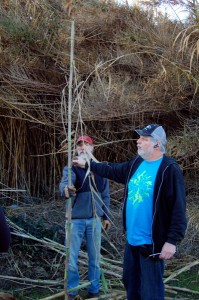 The day before the Meg Quigley Vival­di Com­pe­ti­tion and Bas­soon Sym­po­sium start­ed (see pre­vi­ous post), Stock­ton Sym­pho­ny con­tra­bas­soon­ist Lar­ry Rhodes (shown at right with San Fran­cis­co Sym­pho­ny con­tra­bas­soon­ist Steve Braun­stein) led a small group of us on a cane har­vest­ing expe­di­tion. Giant cane (Arun­do don­ax), which we bas­soon­ists use to make our reeds, is clas­si­fied as an inva­sive pest in Cal­i­for­nia. It tends to grow in streams or marshy areas, and is pri­mar­i­ly prop­a­gat­ed by pieces float­ing along water­ways and tak­ing root in new loca­tions. The area sur­round­ing Stock­ton, most of which is part of the San Joaquin Riv­er Delta, is host to many stands of cane.
Lar­ry found a par­tic­u­lar­ly promis­ing look­ing cane stand via Google Earth, then went in per­son to scope it out and obtain per­mis­sion from the farmer on whose land it sits. Two car­fuls of us drove out to the spot, about 25 min­utes west of Stock­ton, where we met Lar­ry and Steve. Lar­ry showed us some of the cane he'd already cut, using it to demon­strate what we should be look­ing for in terms of diam­e­ter, growth pat­terns, and col­or. In short: for bas­soon reeds you want green cane, about an inch in diam­e­ter, that has branch­es grow­ing fair­ly low to the ground. He then set us loose in the cane patch. Armed with the small saws we'd brought, we spread out and start­ed clam­ber­ing in amongst the cane.
It became obvi­ous very quick­ly that very dif­fer­ent ages of cane grow all togeth­er. It took care­ful search­ing to find stalks of the prop­er size and age amongst lots of too-small, too-young, and dead stalks. We all start­ed out slow­ly, cut­ting one stalk at a time and tak­ing it to Lar­ry for inspec­tion. But, pret­ty soon we got the hang of just what it was we were look­ing for. The one thing we had­n't thought about was how we'd trans­port the cane back to Stock­ton (or back home, for those who'd flown in just for MQVC). Lar­ry tied 80-some­thing stalks to the roof of his sta­tion wag­on, but our hauls were much smaller.
I end­ed up with about eight stalks, although I had to cut them in half to fit them in my car. After strip­ping the branch­es and dis­card­ing bro­ken or too-small pieces, I now have just over a dozen five-to-six-foot sec­tions of cane. They're now stuck up in the rafters of our garage, where they'll sit dry­ing for the next six months or so. After that, I'll prop them upright in the sun for about two weeks months to com­plete the cur­ing process. Then, I can cut 'em up, split the tubes, and get going on turn­ing my har­vest into reeds!
More pho­tos from the expedition: