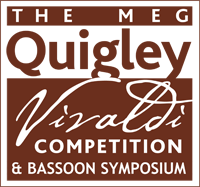 Much of my winter break (and countless hours in the preceding year) were devoted to the 2012 Meg Quigley Vivaldi Competition and Symposium, which I co-hosted with my friend and colleague Nicolasa Kuster, of the University of the Pacific Conservatory of Music. The Competition is for young women bassoonists from the Americas (North, Central, and South), and was founded in 2004 by Nicolasa Kuster (then of Wichita State University) and Kristin Wolfe Jensen of the University of Texas at Austin. The Competition takes place every two years, and has previously been held at UT-Austin (2005), Ithaca College (2007), and the Oberlin Conservatory (2010).
This year, we hosted the competition at the University of the Pacific. From the initial pool of recorded entries, our Preliminary Round judges narrowed the field to ten Semi-Finalists. These ten young women traveled to Northern California for live Semi-Final and Final Rounds of competition. All ten are very talented players, and the competition was fierce. I'm glad that judging was not among my responsibilities! For the Semi-Final Round, each competitor performed the third movement of Antonio Vivaldi's Concerto in d minor, RV 481, and Margi Griebling-Haigh's Sortilège, a piece that Barrick Stees commissioned specifically for MQVC 2012. Five Finalists emerged from that round. In the last round of competition, each of the five performed a work of their choice with piano and the entire Vivaldi concerto from memory, backed by a string orchestra conducted by Stephen Paulson, Principal Bassoonist of the San Francisco Symphony, and Music Director of Symphony Parnassus.
In brief, the results were as follows:
First Place: Ananta Karilun Díaz (Venezuela)
Second Place: Sarah Ruiz (Costa Rica)
Third Place: Alex Zdanis (United States)
Finalists: Rachel Koeth and Kelly Swensson (both United States)
Semi-Finalists: Julia Bair, Carly Gomez, Kara LaMoure, Danielle Osbun (all United States), and Atao Liu (China)
Congratulations to them all for wonderful performances! For biographies of the competitors and other information about the competition, please visit mqvc.org.
Next time: all about the three-day Bassoon Symposium surrounding the Competition.