In a previous post, I set out the basic tools and materials that I like my students to have. These are all necessary for my method and style of reed making, but I don't need all of them every day. I keep a streamlined set of tools in my bassoon case for the daily business of finishing and adjusting reeds. I've spent a good deal of time figuring out what I truly need to carry with me, and have acquired alternate versions of some tools to keep my kit as compact as possible. My kit also contains a couple of items for quick instrument fixes. I gave sources for some of these in my post on basic reed tools, so I'll only provide links for the new items.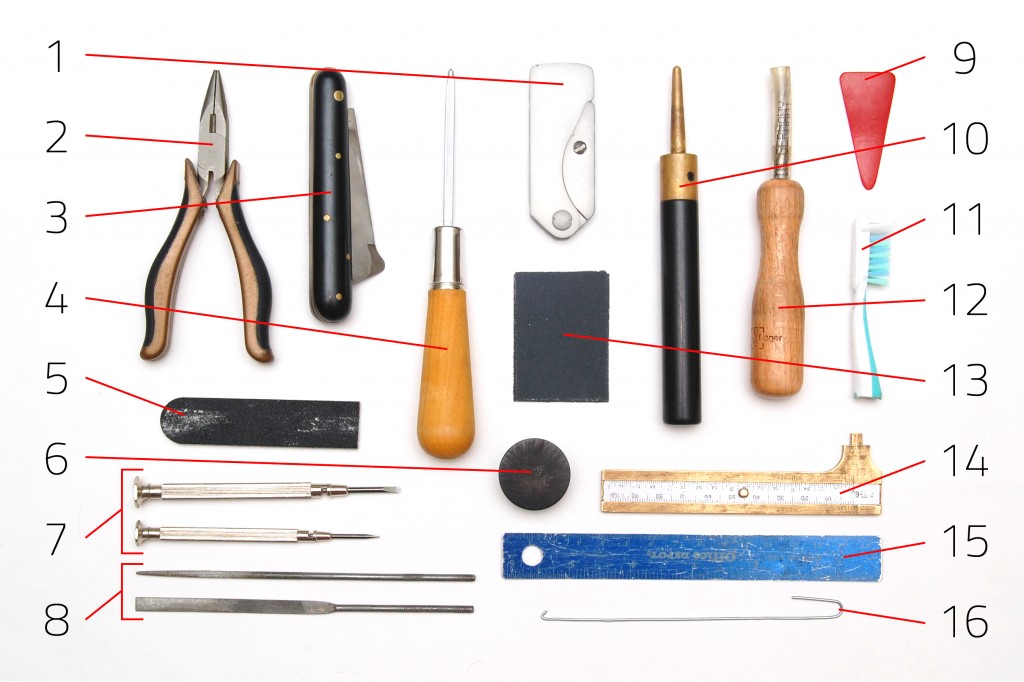 Utility Knife - My big Stanley knife is pain to haul around, so I carry this svelte Gerber EAB folding knife instead.
Source: Amazon
Pliers - Forming pliers aren't necessary for daily adjustments, so I carry this small pair of Craftsman needle nose pliers instead.
Source: Sears
Reed Knife - I like this folding Fox knife for its small size.
Source: Midwest Musical Imports
Honing Steel - Regular use of this Victorinox steel (made for pocket knives and remounted in a file handle by me) lets me sharpen my knife a little less frequently.
Source: Smoky Mountain Knife Works (or find one on eBay)
Emery Board - Half of a wide coarse board fits here nicely.
Cutting Block - I prefer trimming reeds with my Reeds 'n Stuff guillotine, but this and a utility knife will do in a pinch.
Screwdrivers - These two jeweler's-style flathead screwdrivers came with my Püchner, but can be easily obtained elsewhere.
Files - Just round and flat for daily use.
Plaque - Big, plastic, and red. Easy to see if you drop it onstage or in a dark pit. Large enough to use for contra reeds, too.
Short (Holding) Mandrel - Fox: simple and compact.
Toothbrush Head - For quickly cleaning shavings out of the reamer.
Source: any drug store
Reamer - My trusty Rieger.
Sandpaper - A stack of small rectangles (cut from a larger sheet) of 320 grit wet/dry lasts a while.
Caliper - great for making repeated measurements on different reeds.
Source: Sears
Ruler - Although I mostly use the small caliper above, this small six-inch ruler takes up almost no space and comes in handy from time to time as well.
Source: Office Depot
Spring Hook - I made this out of a big paper clip years ago, and haven't yet felt the need to upgrade to the real thing.
Source: your desk drawer
All together, these tools cover about 99% of what I'll ever have to do during a rehearsal or practice session. I wish I could carry my guillotine with me, but it's just too big. As you can see below, all the tools I've listed above fit comfortably into my leather tool wallet, which itself fits very nicely into the accessory pouch of my Marcus Bonna Gentleman's case. No cramming necessary!