In a pre­vi­ous post, I set out the basic tools and mate­ri­als that I like my stu­dents to have. These are all nec­es­sary for my method and style of reed mak­ing, but I don't need all of them every day. I keep a stream­lined set of tools in my bas­soon case for the dai­ly busi­ness of fin­ish­ing and adjust­ing reeds. I've spent a good deal of time fig­ur­ing out what I tru­ly need to car­ry with me, and have acquired alter­nate ver­sions of some tools to keep my kit as com­pact as pos­si­ble. My kit also con­tains a cou­ple of items for quick instru­ment fix­es. I gave sources for some of these in my post on basic reed tools, so I'll only pro­vide links for the new items.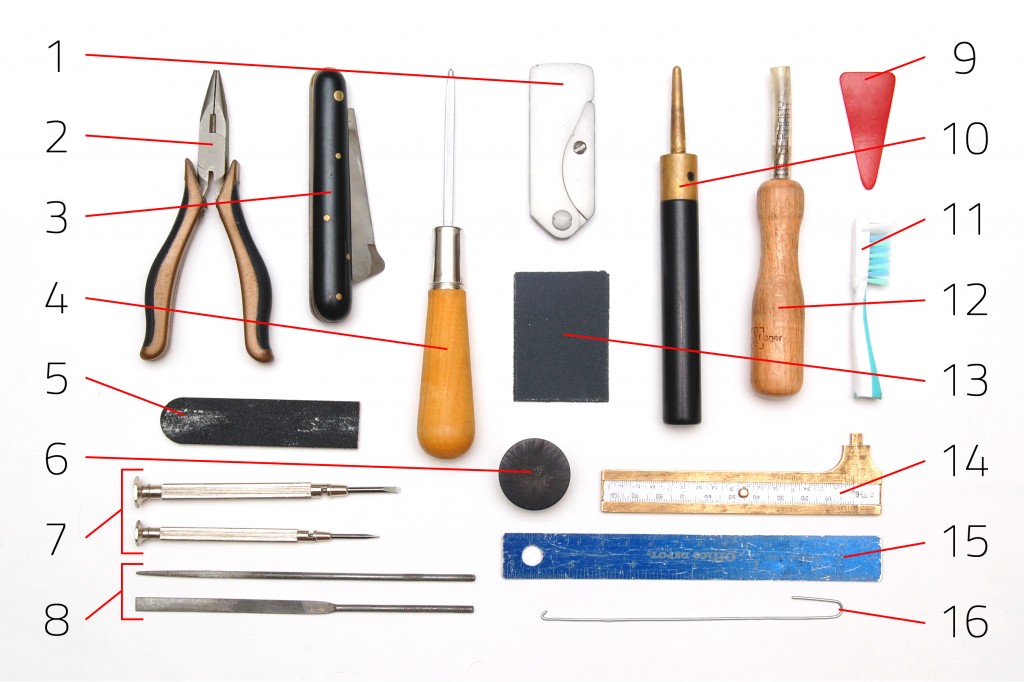 Util­i­ty Knife — My big Stan­ley knife is pain to haul around, so I car­ry this svelte Ger­ber EAB fold­ing knife instead.
Source: Ama­zon
Pli­ers — Form­ing pli­ers aren't nec­es­sary for dai­ly adjust­ments, so I car­ry this small pair of Crafts­man nee­dle nose pli­ers instead.
Source: Sears
Reed Knife — I like this fold­ing Fox knife for its small size.
Source: Mid­west Musi­cal Imports
Hon­ing Steel — Reg­u­lar use of this Vic­tori­nox steel (made for pock­et knives and remount­ed in a file han­dle by me) lets me sharp­en my knife a lit­tle less fre­quent­ly.
Source: Smoky Moun­tain Knife Works (or find one on eBay)
Emery Board — Half of a wide coarse board fits here nicely.
Cut­ting Block — I pre­fer trim­ming reeds with my Reeds 'n Stuff guil­lo­tine, but this and a util­i­ty knife will do in a pinch.
Screw­drivers — These two jew­el­er's-style flat­head screw­drivers came with my Püch­n­er, but can be eas­i­ly obtained elsewhere.
Files — Just round and flat for dai­ly use.
Plaque — Big, plas­tic, and red. Easy to see if you drop it onstage or in a dark pit. Large enough to use for con­tra reeds, too.
Short (Hold­ing) Man­drel — Fox: sim­ple and compact.
Tooth­brush Head — For quick­ly clean­ing shav­ings out of the ream­er.
Source: any drug store
Ream­er — My trusty Rieger.
Sand­pa­per — A stack of small rec­tan­gles (cut from a larg­er sheet) of 320 grit wet/dry lasts a while.
Caliper — great for mak­ing repeat­ed mea­sure­ments on dif­fer­ent reeds.
Source: Sears
Ruler — Although I most­ly use the small caliper above, this small six-inch ruler takes up almost no space and comes in handy from time to time as well.
Source: Office Depot
Spring Hook — I made this out of a big paper clip years ago, and haven't yet felt the need to upgrade to the real thing.
Source: your desk drawer
All togeth­er, these tools cov­er about 99% of what I'll ever have to do dur­ing a rehearsal or prac­tice ses­sion. I wish I could car­ry my guil­lo­tine with me, but it's just too big. As you can see below, all the tools I've list­ed above fit com­fort­ably into my leather tool wal­let, which itself fits very nice­ly into the acces­so­ry pouch of my Mar­cus Bon­na Gen­tle­man's case. No cram­ming necessary!